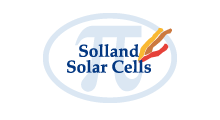 COMPANY
Solland Solar Cells manufactures solar cells using innovative production methods.
We are located at "Avantis", a cross border industry location between Aachen (Germany) and Heerlen (Netherlands). Research focuses on continuous improvement of solar cell efficiency, yield and production methods.
Our mission is to be a globally operating, innovative and leading solar company that responsibly, designs, develops, produces and markets silicon based solar solutions
Solland supplies both Business to Business market and inter-company, i.e. to solar module producers and OEM (Original Equipment Manufacturers) that integrate its cells into OEM products.
Solland Solar Cells aims to also play a significant role in the economic use of solar energy by increasing the production of solar cells and by establishing strategic partnerships with other companies in the solar value chain in order to lower the overall cost of solar energy.